Cleaners, Sealers & Concrete Repair Products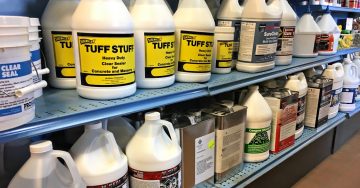 To maximize the value of any masonry system, a proper sealer will add years to the life of any project.  And its not too late.  Usually, just proper cleaning and repairs can prep your surface so that protective sealants can be applied.  Susi Builder's Supply has the right product for you to safely repair, clean, seal, and reinvigorate your project.
Looking for deep penetrating sealers?
For brick, concrete and stone cleaning, we recommend using Eaco Chem Products. For products used in sealing masonry, we suggest VSeal for horizontal concrete, and Evonik (DeGussa Chemicals)  for vertical and horizontal sealing in the protection of concrete, brick and stone. Additionally, Conproco's Shield MX offers a full range of sealing products. We also stock caulks from BASF Sonneborn (Now Master Builders) for the best in flexible Urethane caulking.  We offer other popular treatment products by Vexcon.  Finally, we are pleased to announce that we are now a stocking distributor of Evonik Protectosil Silane sealers. Evonik traces its heritage to German manufacturer DeGussa Chemicals. They represent the best value in penetrating sealers. Carrying warranties for up to 20 years, there is an Evonik Protectosil sealer right for your application.
Yes, Concrete can be repaired effectively.
Understanding the cause of the damage, proper cleaning, and the use of bonding agents are usually part of an effective lifetime repair. Susi's has both the knowledge and products available for your particular issue. Additionally, we have Sakrete products made locally in the Shenango Valley enabling you to do repairs quickly. Arisfor,  located in Grove City Pennsylvania, has concrete repair products that exceed the specifications of many other manufacturers.  Repairing steps, walk ways, loading docks, or driveways is fast.  Apply just one sixteenth of an inch and Tough Deck sets up within an hour to walking traffic. This is ideal for repairs around customers and employees. Other fine repair products companies include Ultracrete, (a good general purpose repair product used for stamping overlays.)  Thoro Seal Products by BASF (for fixing holes and water leaks) and Conproco.
Cleaning and sealing your work extends the life of the project by many years.  Susi's can help