Pipe and Drainage Products
Susi's carries a full line of drainage, sewer and septic field pipe from 1  1/2″  to 24″ in diameter. In addition to HPDE corregated drainage pipe, Susi's carries light wall sewer and drain pipe,  Schedule 35 sewer pipe (gasketed or bell) and Schedule 40 drain, waste and vent pipe. We also have a full line of pipe fittings, drain boxes, trench grates and rubber field repair fittings.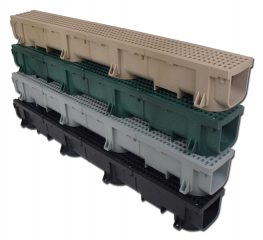 For Commercial applications, we also stock concrete drain boxes and cast iron grates. We proudly stock drain boxes and plastic grates from Polylok and metal grates by Marshall.
When constructing a footer for your foundation, Form-a-Drain is an ideal product to provide the necessary drainage to keep your basement dry.
Known as French Drains, this method rapidly expels water from around the foundation will ensure basement living and storage space.  Mold issues are eliminated. Easy to install, these systems save labor costs because the forms stay in place once the footer concrete is poured, Form-a-Drain should be part of your construction project.
We know drainage systems.  How can we help you?